Solar Powered VR250 NDB in Agalega Island, Mauritius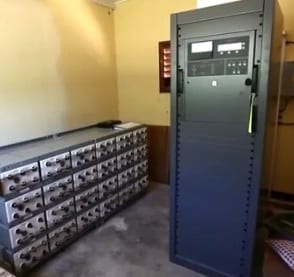 Nautel Authorized Distributor, Systems Interface provided civil works, installation and commissioning of a Nautel VR250 Vector solid-sate 250W non-directional radiobeacon with custom designed solar power system in Agalega Island, Mauritius.
Due to the lack of power and comms on the island, Systems Interface worked with partner company and solar expert, Aviation Renewables Corporation (ARC) and manufacturer Solar Electric Supply, to custom design The Solar Series MAPPS self-contained solar power system, to suit both the climate of the airfield, the power requirements of the NDB and to provide continuous 24 hour operation. An Avlite AV310 Solar Powered Obstruction light was also fitted on top of the NDB mast.
Why Vector 125W/250W NDB transmitters are ideal for this type of situation.
High overall efficiency (70% or better) means low power consumption and reduced operating costs!
Learn more about NDB Systems