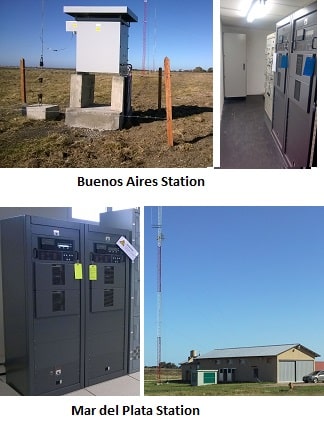 PNA Refits Coastal Stations with NAVTEX
PREFECTURA NAVAL ARGENTINA (Argentine Coast Guard) as a member of the International Maritime Organization (IMO) is on charge to cover all services related with GMDSS, Navigation Aids and coverage of HF communications on NAVAREA VI Zone.
PNA decided in 2012 to refit its main Coastal Stations: Buenos Aires, Mar del Plata, Comodoro Rivadavia and Ushuaia with all new HF equipment (TX, RX and Antennas) and all new MF equipment (TX and Antennas).
Ingenieros Electrónicos Asociados SRL (IEA SRL) was awarded the contract to do the refitting as Exclusive Representative of the main providers: NAUTEL Inc, Hagenuk Marinekommunikaions GmbH and TCI International Inc.
The Nautel VR1500TT Transmitters were installed and put on service by IEA SRL to broadcast NAVTEX Messages using the National Broadcast Navtex System developed by IEA SRL that manages the emissions of all stations from Buenos Aires. The Remote Control of the equipment was developed by IEA SRL using all data input/output of the equipment.
As of August 2016, the Buenos Aires and Mar del Plata Stations have been completed and installation is underway at Comodoro Rivadavia Station. Ushuaia is planned to award the contract early in 2017.
IEA spokesperson, Ing. Gerardo R. Manavella commented on his Nautel experience, "The installation of the equipment was without any difficulty, and the technical information provided was very suitable for the installation. The Nautel equipment is very reliable and there have been no failures since installation; two years in Buenos Aires and one year in Mar del Plata. The customer, Prefectura Naval Argentina, is very satisfied with Nautel's equipment and they are thinking of buying more for the rest of the Coastal Stations."
Ing. Gerardo R. Manavella
INGENIEROS ELECTRONICOS ASOCIADOS S.R.L.
Learn more about NAVTEX Systems