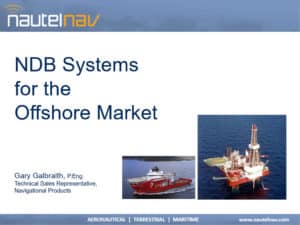 This NDB Systems for Offshore Markets webinar discusses non-directional radiobeacons basics plus installation of Nautel's VR125 transmitter.
The first in a series of webinars focusing on Nautel's offshore non-directional radiobeacon (NDB) product offerings.
This webinar provides a brief introduction to Nautel, an overview of NDB systems, Nautel's VR125 offshore NDB transmitter in detail including the ancillary equipment that is required to make up a complete system, and finally system installation and interconnection information and tips.