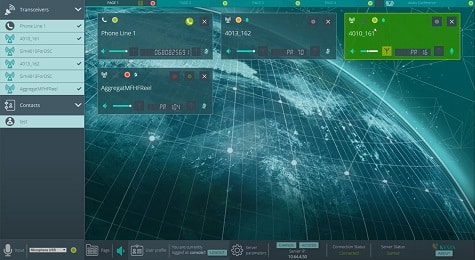 MRCC Software
VoIP Operator Console
The VoIP Operator Console is a software-based solution connected to the GMDSS Server, which can be located in the same PC as the Console or in a separate PC depending on the application. The VoIP Operator Console is suitable for:
Simple or complex radio communications systems whatever the frequency bands (MF, HF, VHF etc.)
GMDSS (Coast Guards) applications
VTS or Coastal Surveillance applications
Port Authorities
Off-shore Platforms Operators
River Authorities
Features
The VoIP Operator Console is supplied with a PC Workstation (with Windows OS in English), a 22" – 16/9 flat touch screen, a headset and a footswitch (PTT). Other accessories such as loudspeakers or microphones can be supplied as options.
The VoIP Operator Console main features are:
Friendly & Ergonomic Touch Screen Graphical User Interface
VoIP based with SIP (ED137B compliant)
Phone conference setup possibility
DSC console in option
Multi sites, Multi radios, Multi users possibilities
Radio remote control & monitoring
Suitable for MF, HF or VHF radios