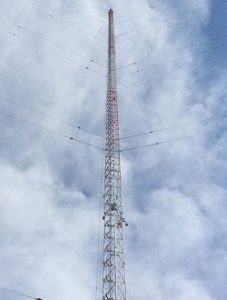 With worries mounting about jamming and other disruptions of GPS signals, officials took a step Friday (June 19, 2015) toward possibly establishing a backup for satellite navigation users in the U.S.
Congressman Frank LoBiondo, R-N.J., flipped a switch at a decommissioned Loran-C station in Wildwood, New Jersey, to begin transmission of an enhanced Loran or eLoran signal. The signal, which is part of a year long test, will be receivable up to a 1,000 miles away and will help establish whether the old facilities can become the foundation foe a reliable eLoran network to provide positioning, navigation, and, perhaps most importantly, timing (PNT) information in the United States.
Signals from the GPS constellation currently provide precise timing information essential to a wide range of critical infrastructure including the power grid, cell phone network, financial systems, and the Internet. Because of this and other GPS dependencies, U.S. officials are weighing a proposal to upgrade the now idle Loran-C installations to broadcast eLoran signals across the country.
Last month, the Department of Homeland Security (DHS) and the U.S. Coast Guard (USCG) signed a cooperative research and development agreement (CRADA) with Harris Corporation and UrsaNav to evaluate and demonstrate such a network. The Wildwood signal is part of that effort.
The powerful signals from an eLoran ground-based radio navigation system are widely seen as a cost effective backup for GPS and have been endorsed by leading PNT experts including the National Space-Based PNT Advisory Board. ELoran signals would be very difficult to jam and are able to reach underground, underwater, through buildings and into other obscured areas where the GPS cannot penetrate. GPS and eLoran operate on different frequencies and share no common failure points.
"eLoran is an ideal technology to complement GPS for critical, resilient and assured PNT," said Ed Sayadian, then-vice president of Civil & Aerospace Systems at Exelis, which signed the CRADA in May and has since been acquired by Harris. "ELoran is a difficult to disrupt technology that offers PNT and wide area broadcast data capabilities indoors, in underground locations and other GPS-denied environments."
"From international commerce to simple driving directions, GPS has transformed the way we live our lives and conduct business. Yet disruptions are increasing as demand skyrockets," LoBiondo told Inside GNSS in a statement. "From my perspective on the House Coast Guard & Maritime Transportation Subcommittee and the Armed Services Committee, eLoran is the perfect complement to GPS with significant benefits and opportunities in both commercial and private applications, including unmanned aerial systems, which are currently being tested in my South Jersey district. It is clear the U.S. will continue to be the leader in global positioning technology with the deployment of eLoran."
Harris and UrsaNav, a leading supplier of eLoran technology, equipment, and services, will work to assess the capabilities and potential utilization methods of the enhanced system — identifying strengths, capacities, and potential vulnerabilities of the technology. The Wildwood signal will be turned on and off over the next year as part of the testing process.
"The recently released 2014 Federal Radionavigation Plan states that it is a policy objective of the U.S. government not to be critically dependent upon a single system for PNT," said UrsaNav President Chuck Schue.
"The new Cooperative Research and Development Agreement between the DHS, USCG, Harris, and UrsaNav allows us to demonstrate a second, complementary system for PNT: eLoran," Schue continued. "It was an honor to be here today as Congressman LoBiondo threw the switch that put eLoran signals back on air in the United States for the first time in several years. Although these signals today are only for test purposes, they are a testament to our government's desire to make PNT an assured service."
Copyright © 2015 Gibbons Media & Research LLC, all rights reserved.