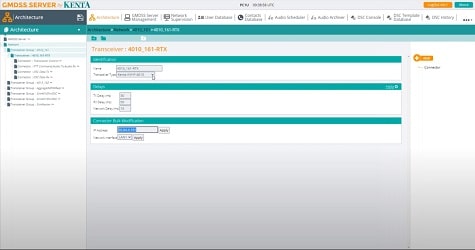 MRCC Software
GMDSS Server
The GMDSS Server is a software-based solution acting as a central point for any GMDSS network. As a key component of the GMDSS network, the GMDSS server is specially designed for 24/24 hours and 7/7 days operations. In order to warranty such robustness, many key points are continuously considered since preliminary design:
Robust and modular software design
Detailed logging of every operation (regular and abnormal)
Strict checking of every inputs (configuration and Data)
External User interface based on a Web Server
Redundancy and backup considered since first design
The GMDSS Server is based on a robust software-based stream routing matrix able to route both input streams coming for example from receivers or operator consoles and output streams going to transmitters or operator consoles. The routing matrix may be configured such a way to feed Voice/DSC/NAVTEX. Encoders/Decoders and also operator console with any stream depending on the needs. Symmetrically, the routing matrix is also able to feed back any stream to any transmitters or transceivers.
The GMDSS Server product is fully integrated inside a 19″ – 4U rack with hot-swappable dual power supplies from 100/240 VAC – 50/60Hz, a RAID 1 redundant hard disk system (hot swappable disks on front panel) and the possibility to change the Air Filter on the front panel for an easy maintenance on site. The GMDSS Server has basic LED indicators available on the front panel for Fan monitoring, Temperature monitoring, Power indication and hard disk activity. The GMDSS Server works under OS operating system (license included).
Management Tools
The GMDSS Server uses Graphical User Interface for system setup, monitoring and maintenance available through user friendly HTML pages (Web remote control).
It provides multiple management tools for:
Network Architecture Management
Network Supervision/Monitoring Management
DSC/NAVTEX Database Messages Editor
Voice/DSC/NAVTEX Scheduling Management
DSC/NAVTEX History Log
MMSI Database Management
User Database Management
IPSTN/IPBX Management
Voice Recorder and DSC Archiver
The GMDSS Server can handle several remote transmitting / receiving coast stations in MF, HF or VHF (KENTA products & Third Party) using an IP based network topology. For voice, the traffic through the server uses VoIP with SIP format (ED137B).